KMS offers a variety of services from basic Website Design to complete e-commerce solutions. We have the creative talent to appeal to your sense of style, plus the experience and knowledge of current web standards and practices, to turn your vision into a reality, while staying within your budget. Our clients range from individuals to large corporations and everything in between. With our combined experience in graphic design, website development and e-commerce, you can be confident that whatever your project demands, we will provide solutions. KMS is a full service web hosting and design company. From a simple Blog to a full blown E Commerce, we can provide a solution to fit your needs.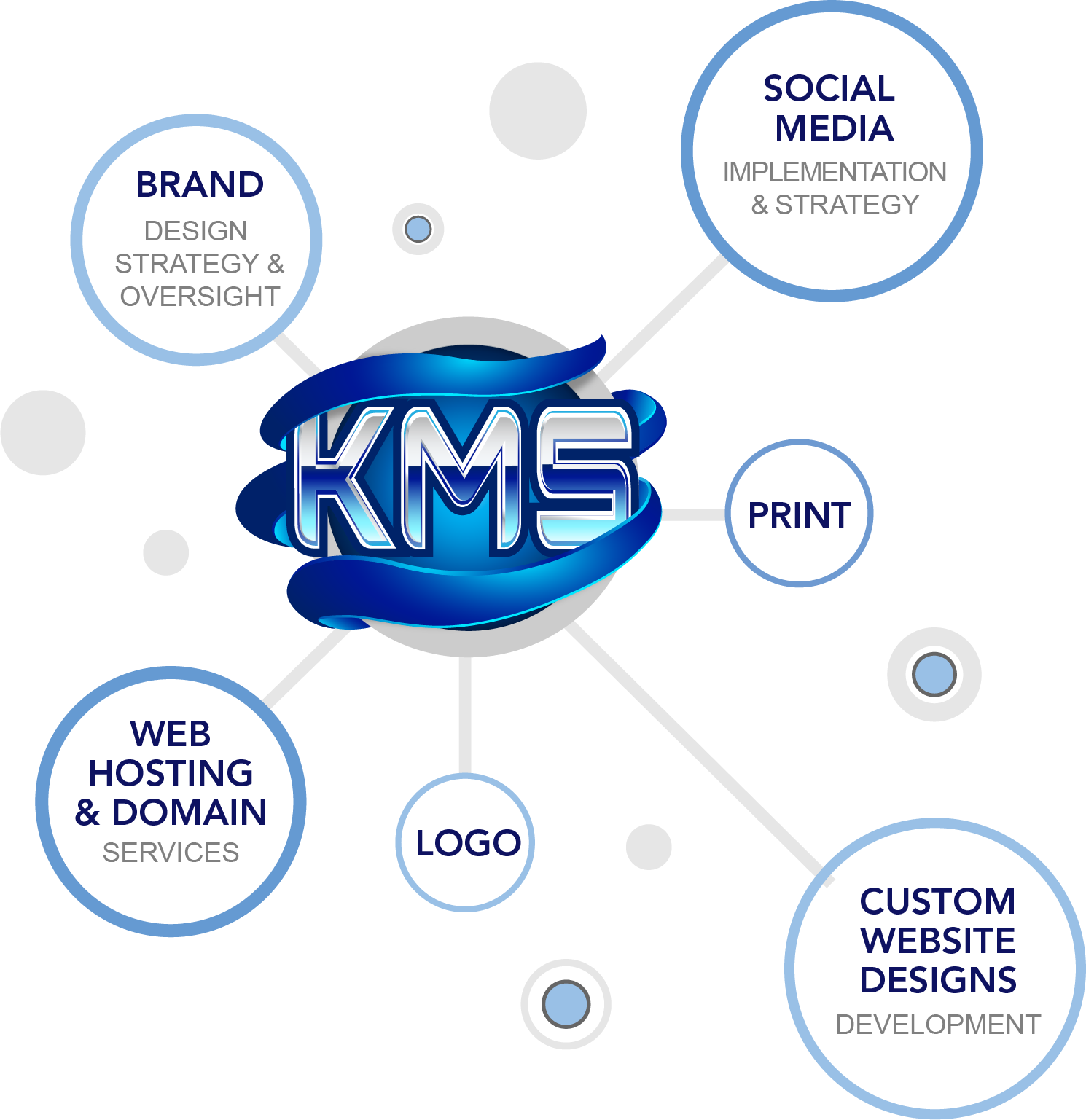 [gva_block_heading title="KMS offers a complete full-service marketing solutions which includes:" align="align-left"]
• Website Design
• Social Media
• Print ads
• Logos
• Direct Marketing
• Promotions
• Identity Systems
• Annual Reports
• Event Marketing
• Outdoor Advertising
[gva_block_heading title=""Can we handle your workload?""]
The truth is, you wouldn't be reading this on our website if we couldn't. It does everyone involved a disservice to pursue new business if we can't deliver. With that said, we have not forgotten that we are a service-oriented business. We will grow with you as your company and agency grow together, building a comfortable relationship. Because in an ideal world, we function as an extension of your marketing department…not your vendor.
Branding Stewardship

Branding stewardship is at the heart of everything we do. A brand can take a company's greatest strength's and serve them up in a unified, emotional manner. It can suggest that a company is united in its products and integrated in its design, and that it continually offers customers a positive experience. From a bottom-line perspective, it builds familiarity, familiarity builds relation-ships, and relationships build revenue. With that said, we feel brands can never be static.
Every communication – from national advertising campaigns down to the smallest leaflet – either works towards building it or dare we say weakening it. That is why we take a holistic approach to brands, to establish and execute them consistently and with cohesive vision, across every marketing discipline.
[kswr_heading head_align="center" head_title="OUR SERVICES" head_title_fsize="font-size:19px;" head_title_fstyle="font-family:Inherit;font-weight:inherit;" head_subtitle_fsize="font-size:14px;" head_subtitle_fstyle="font-family:Inherit;font-weight:inherit;" head_title_margins="margin-top:0px;margin-bottom:0px;" head_subtitle_margins="margin-top:0px;margin-bottom:0px;"]
for all your business needs
[/kswr_heading]